Tuesday, March 27, 2007
RUNNING UP THAT HILL
Posted by Frank at 8:11 PM 5 comments


Monday, March 19, 2007
LA GATA SOBRE EL TEJADO YA NO TAN CALIENTE
Gatalina 3 días después de su esterilización.
--------

Hay finales tan largos que tienen su propio inicio, nudo y desenlace, tan prolongados que se olvida por qué son finales, tan extensos que ya no se sabe por donde volver a empezar.
Posted by Frank at 2:21 PM 5 comments


Sunday, March 11, 2007
ECLIPSE
Es una de esas cosas que quisieras contar una y otra vez a todo el mundo, pero no te entenderían a menos que quien te escuche también lo haya vivido.
Sentir el rojo de los martillos, el corazón del sol, las burbujas de diamante y desear que estuvieras en ese momento conmigo. Respirar antes de la carrera lunar, perderse en el tiempo y conocer el lado oscuro de nosotros y ellos, con el prisma como guía, todo antes de recordar como se derriban muros y como sentirse entumecido y extasiado al mismo tiempo por tanta descarga sonora y visual.
Y entonces siempre que lo cuentas te quedas corto.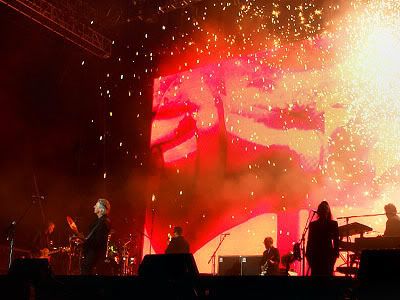 OkJust a little pinprickThere'll be no more ...Aaaaaahhhhh!But you may feel a little sickCan you stand up?I do believe it's working, good
That'll keep you going for the showCome on it's time to go.
Roger Waters en Bogotá !!
Había otra luna además de la de Waters que eclipsaba el sol de agua aun cuando yo no la veía, creo que andaba por ahí girando alrededor de una tierra al parecer más cálida.
For long you live and high you flyAnd smiles you'll give and tears you'll cryAnd all you touch and all you seeIs all your life will ever be
Posted by Frank at 7:51 AM 5 comments